He is sadly missed by Julie, me and our woofer gang. Thank you to everyone for your kind comments.
Rest in peace wee man. Run with a free mind to Rainbow Bridge where Eddie will look after you till we meet again.
Mike & Julie Stallard
---

BILBO BAGGAGE
'Bilbo'
2000 – 29 May 2015
Agility was the great love of Bilbo's life. He had a fantastic career, competing for ten seasons. Bilbo didn't just attack courses – he devoured them and enjoyed every minute in the ring! If I did nothing to impede him and he went clear, he was invariably placed. It was unusual for us to return home without a trophy or rosette of some description, but the joy of seeing him in full flight would have been reward enough anyway.
Having been rehomed from Battersea Dogs and Cats Home in February 2001, Bilbo was a worthy ambassador for rescue dogs. He made many appearances in the Rescue Dogs Agility Display at Crufts and other events. His 'Retirement Do' was at Discover Dogs in November 2011 when he stormed round the arena to deafening cheers from the crowd. There were a few tears shed that day, but he thought it was wonderful.
Most importantly, he was my dearest friend and companion, and life will never be the same without him. I am thankful that he left us quietly and calmly at home, by my side where he has spent so many years.
Bilbo, you were a dog in a million. Run free, my gorgeous boy, until we meet again.
Ann Del-Pizzo
---

SHADOWS HIDDEN DREAM
Benjii
24 September 2001-1 April 2015
I am still in shock after losing my best friend and agility partner. Benji was a one in a million dog and without him I would never have discovered agility.
He was the best first agility dog I could have ever had. Reliable and honest he quite often got me out of trouble on the course. Although his stubborn streak meant catching him was a challenge when he finished his run and he would quite often continue into the next ring.
We mainly competed at UKA where he just reached champion level before retiring due to his bad hips. His last competition was a few weeks before I lost him. He jumped micro steeplechase and barked the whole way round. He never did believe he should be retired.
The first sign he was ill was on Christmas eve when he had a seizure. He recovered but we were told he had a suspected brain tumour. He recovered so well I had started to doubt the diagnosis. We were on holiday in Cornwall which he loved. On the second to last day of the holiday, he had a huge fit at 4am. The fits kept coming and there was such a big risk that he would have suffered brain damage that we let him go. It was such a shock but, at least, he didn't suffer.
Rest in peace old boy.
Lizzie Lang
---

STORM
16 February 2008 - 23 April 2015
Storm was the best Agility dog I have ever had. He wasn't fast but we got a lot of clear rounds over the years, some just outside the time! But with a handler who couldn't run, he did very well.
We lost him in the night with bloat / torsion. He died before we could do any thing. He was okay when we went to bed (23.00) but jumped on my bed ay 1.10 and was bloated then. Though we got him to the vets straight away, it was too late.
Last year we had a brilliant year. He 'found' his contacts and I was running better. We never managed to get many placings nor to win out of G1 but he was great fun to run.
He will be missed up here as he was so friendly and so excited to see everyone. I will miss him terribly as he was always with me whereever I went and he was my loyal friend
I loved running him my beautiful boy and I miss him dearly.
Geraldine & Doug Smith
---

RED BARON THE FIRST
'Snoopy'
4 February 2010 - 24 February 2015
My little Snoop. I fell in love with his picture on the Internet. Free to a good home it said. I just had to have him.
He disappeared for a while and then reappeared. That was it. I rang the owner who said ,'Yes come and see him.' We were at Stour valley show. He was in Uxbridge. I didn't care. Off went my friend Ann and I went with my two dogs. It was really bad weather, too. Anyway. He came home that eve and came to the show the next day. What a handsome lad he was - only 17 months old.
He took to our new life like a duck does to water. He was in a pretty poor way. You could count all his back bones and ribs, very food aggressive but you could understand why.
Six months later I started training him for agility. We never looked back.
He had to start at Grade 3 and in his second full season of competing went to Grade 5... just like that. Wow I was so proud of him. He also won DINAS Grade 3 Medium final in his first year.
Then he hurt his back and had four months off agility. He was so pleased to be jumping again, you could see it in his little face.
Unfortunately Snoop was a very aggressive little chap and hated most humans and dogs. He had a lot of faults bless him. But I loved him so was prepared to put in all the hard work required.
I am so glad that I had him for the last years of his life. He was a naughty, cheeky little boy but he was very focused when doing his agility and all the tricks I taught him. He loved nothing more than to please and get a cuddle at the end of the day.
He was hard work, but I miss him so No little lad bouncing as high as he can to great me when I got in from work. No one pinching my socks and running off down the garden with them. No one ripping the fence to bits trying to get at the cat next door and many other things I miss.
My other two are at a loss without him. Lucy has no one to play with now. Junior has no one to chase when out on a walk.
Run free little Snoop.
We love you.
Teresa, Jr and Lucy
---

ACECLIFFE STAR'S BEAU
'Beau'
4 November 2001-24 December 2014
Sad to announce that Agilitynet has lost one of its lovely agility dogs: Beau, our big white Standard Poodle, crossed Raimbow Bridge - very sudden, suspected brain tumour.
His retirement from agility a couple of years ago deprived many judges of a moment of humour in a long day of judging; He kept his special sense of humour to the end.
Thanks to Patrick Raymond for many of Beau's more successful runs.
Run free, Big Boy.
John Leslie & Ellen Rocco
---

DONTGOJOJO WAITTISAYSO
'JoJo'
1997 - October 2014
It is with great sadness that we had to say goodbye to our lovely Dontgojo Waittisayso (aka JoJo), aptly named as she always wanted to start the agility course before her handler Ian was ready. She was always ready to go when the manual timer said 'When you're ready!'
JoJo was 16 1/2 years old and had been rehomed from a Cornwall rescue service. She had a lovely temperament and was was a lovely addition to our family of dogs, the cat who 'adopted' us, not to mention the chickens. She had a great agility career.
She will live on in our lives and will be remembered with great fondness as the dog in our Orchard Agility logo.
She is now in Rainbow Bridge with all our other lovely pets.
Rosemary & Ian Stowers
---

PRINCE OF BLUES
'Oscar'
23 March 2001 - 27 July 2014
Our special boy has left us and is running free at Rainbow Bridge, reunited with his bestest friend, Harvey. Oscar collapsed and died suddenly at the end of July and we are heartbroken. Still can't believe it's happened.
What can we say about Oscar? He was a loving, clever, quietly determined little chap. We never heard a peep out of him except when he thought someone was hurting his bro or if there was food around!
He had the potential to become an excellent agility dog. He was consistent, fast, always hit his contacts and trained beautifully... but he was very naughty in the competition ring. How I despaired of him, but when we turned that corner and Oscar started to 'perform, how sweet it all became.
I often wondered if he'd been under the tutelage of a more experienced handler whether Oscar would have gone on to bigger and better things. We shall never know as Oscar picked up a 'sports injury' from which he never truly recovered and sadly, we had to retire him from the agility ring four years ago.
We have so many happy, fond memories of Oscar - snatching sausages off the grill, chasing pebbles on countless beaches and lakeside shores and being tricked into a cold November sea by Harvey. Oscar will not be forgotten.
Run free with Harvey at Rainbow Bridge, little man. Wait for us. We will see you and Harvey again one day.
God bless, sweetheart.
Lydia & Andrew Parry
---
CANDY
12 June 2002 - 1 August 2014
I was given Candy when I was 12 years old. I remember rushing home after school to go see my little ball of fluff. You were the first dog I trained to do agility and I trained you myself. You were lots of hard work! When I was at school, my mum looked after you so I had a lot of trouble keeping you in the ring with me at shows. You were a pain! But I loved you for it.
All the crazy Spitz moments when you would run at full speed around the ring doing your own thing with a smile on your face and then coming back to me like nothing ever happened. You did this at Crufts remember? We were competing in YKC and I could see straight away from the look in your eye that you were up to something. As soon as you jumped that first jump you had a 'Spitz moment.' you had everyone laughing, myself and the judge included. I don't know how you managed it, but you ended up climbing on the audience's laps causing chaos, before returning back to me and doing a lovely run after that, you little swine! I will never forget that day though.
You were my gem... a huge drama queen. The noises you made when a big dog approached you too quickly would always be a little over the top and people would be worried their dog hurt you even if they didn't touch you. You would always come out with your cheeky grin though and make my heart melt and, of course, if you started limping for any reason I would break down in tears. Maybe you learnt the dramatic thing from me?
We were a super team, although it took three years for us to get our first 1st place in agility in Starters! But we did it, and you went on to going Grade 6 at the age of 11. You only had one win to go before you reached Grade 7, but you fell ill with anaemia and I made the decision to retire you. You kept winning though, even without competing - most points gathered out of Small/Midi dogs in Cornwall Agility Club and Best performing Japanese Spitz in the Spitz league. I've still got to apply for your Gold warrant as well which I will add to the memorial I have up for you.
You are the most amazing dog and always will be. Thank you for looking after me and teaching me how to compete in agility with a smile on my face. Thank you for being the mother figure as my other dogs came along one by one, even though the newest recruit Ernie was much bigger than you. They all respected you and they send their love. We are glad you can run happily now without effort. Everytime I look at your pictures I smile. Your cheeky grin is still making the room light up.
As my niece Faith says, 'Auntie Kerry is looking after you in Heaven now.' I just hope she'll be willing to share when I cross the bridge as I will be making a beeline for you.
Love you always, my little Flosspot
Lenni, Rob, Sasha, Summer & Ernie
---

THE BLADE RUNNER
'Cal
02 December 2001 to 18 July 2014
Over the past couple of years, my Belgian Shepherd Dog Cal has endured the onset of spondylosis and paralysis affecting his front leg. Just recently the symptoms progressed to a level that triggered my decision to sadly have him put to sleep at home with me by his side (as always).
For those that knew Cal on the agility circuit etc, he won great respect and admiration from his competitors together with a never ending list of achievements inside and outside of the ring. This being even more special with Cal originating from a rescue background. A magical example and inspiration to anyone keen to adopt a rescue dog.
I've lost my best friend, a loyal and loving companion. You leave your sister Inca and a family who absolutely adored you.
Rest easy now Cal. Fergus is just on the other side of the gate waiting for you to run free again as you did all those years ago. And oh boy, couldn't you both run! What a pairing you would have been... unbeatable.
A special thank you to Nikki Keeler at Barking Mad Agility Club who gave Cal the chance to succeed.
Mike Stonehouse
---

TALLIE SINNER
'Tally'
2001-24 March 2014
What can I say about my quirky and mixed up girlie Tallie Sinner? My beautiful Tally went to join Dakman over Rainbow Bridge on 24 March at the age of 13.
Few understood our relationship, especially when they saw the bites and bandages. It was fair to say you had more lives than any cat I know. But you were my special girlie, wanting to please but nervous with it.
You loved your agility and beat Dak to Grade 4. Whilst it broke my heart retiring you early, it seemed to be just what you needed.
You came as a rescue at 11 months and life was never the same again. You could flare for no apparent reason but you greeted each pup with a game of chase and organised the house from your cage. The contents of the bin aren't secure these days without you as my early warning alert. As I'm typing this, I can hear someone causing chaos in the kitchen. I never thought I would miss your barking.
So many happy memories - you pacing in your cage on pizza nights when we lived with the girls and the addition of Tally sausages to the shopping list. Life will be less complicated without you and I will be able to set up camp much quicker without your 'playpen,' but we were joined at the soul and I have a hole in my heart which you used to fill.
I missed you so much this weekend in Norfolk. It was the only place you could run free but now you are free to run on forever alongside Dakman. Your paw prints will be forever on my heart.
Jane Eshelby
---

WT.CH. FLYNNTASTIC RED JAFF OF TARNFORCE
'Jaff'
5 April 2001 to 9 February 2014
Jaff passed away peacefully this morning at home.
He will be sadly missed and leaves a large hole in my heart.
Run free my special boy.
You're at peace now.
John & Kate Wykes
---
DIAMOND SPIRIT OF JUDY
'Mika'
4 April 1999 – 6 October 2013
We had to make the toughest decision this week to have Mika put to sleep and she was given peace at home on Monday.
Mika was my first agility dog and although she never set the agility world on fire she set my world on fire. She came into agility at the age of three and the plan was to just complete the eight week beginners course our local Club was running but we had no intentions of taking it any further. The first few weeks were a challenge to say the least. She was shy and timid around other people and dogs and didn't have the natural drive and exuberance of most Collies.
She wasn't motivated by toys and the only toy she would ever play with was a furry bone that squeaked in the middle. If it didn't squeak in the middle, she just wasn't interested. However, we discovered the secret weapon to motivate her was 'stinky sausage' and for that she would do anything I asked. As the weeks went by her confidence around others grew, as did her desire to want to do agility and we were bitten by the bug.
As a pet dog, Mika was the clumsiest dog you could meet and would trip over her own shadow but, as an agility dog, I can count on one hand the amount of poles she had down in her six years of competing. I will always treasure every single one of the rosettes that she earned which fill two boxes upstairs.
I stopped competing Mika at the age of nine for health reasons, and she enjoyed her next few years of retirement, accompanying us to shows and appeared more than happy not to have to leave the comfort of her bed to go running and jumping.
We have so many good memories of our special girl and although she is gone from our lives she will remain in our hearts for ever.
We had one last weekend to spend with our girl and I was able to have one last walk with her in the sunshine last Sunday.
We love and miss you, Mika. Be nice to Sammy!
Teresa, Bob, Molly, Becky, Badger & Jack
---
TOP HAT WHITE TAIL OF VALGRAY
'Kai'
1998-2013
Kai suffered a stroke on 5 September whilst running on Epsom Downs. He was then around 15 years old.
My old friend, you may never have been the quickest, but it was to you I would turn when I needed that elusive clear round. You were the best friend anyone could have, whether it was on an agility course, a quite country walk or keeping the goats under control at the local nativity Christmas service.
Like so many rescued by 'Auntie Val,' Kai went from a rough beginning - an unwanted Christmas present whose crime was not being house trained by New Year's day - to finding that doggy heaven; a home where he was part of the family and loved.
Kai lived his life with enthusiasm and kindness - always the first to lick your hand, the first to greet you at the door and the one whose gentleness and unassuming goodness stole everyone's heart.
Rest in peace.
John Kate, Suzie & Bree
---

DAK ATTACK
'Dak'
1998-17 August 2013
Many of you will already know that I lost my Dakman suddenly after a short illness whilst at Dogs in Need. He was 15 years young and, although a bit wobbly on his back legs, especially when Tic dived under him, he was able to steal anything edible or not from the worktop, even if Tally was shouting to let me know.
Dak was a rescue from Wales and came to me when he was 11 months old, minus a tail and with a jumping action which made people ask whether he was an Aussie.
He was my first agility dog and it was due to his anti-social behaviour with other dogs that we both started agility training. Luckily he was only able to focus on one thing at a time and was obsessed by balls, particularly if they squeaked so between us we progressed to our first show. This was indoors and to my horror the weaves were parallel to the queue separated only by meshing, and to cap it all, those were the days when the dogs were required to run naked without their collars! The round was a blur but not only did he stay in the ring, but the newly KC registered Dak Attack went clear and we got our first top 10 place. From that point on I was hooked. He and I made it to Grade 4 and even qualified for the Supadog final in 2006 coming 2nd, again with me almost more relieved that he hadn't bogged off out of the ring.
It always amazed me that, despite being difficult, he always managed to endear himself to people and would often plead with them to play ball. His bob tail didn't seem to wag. Instead circled at a rate of knots. Other dogs toys were always much more exciting than his own, and I often had to apologise for the soggy condition in which stolen contraband was returned. He didn't improve with age and would arrive at Sophie Waymouth's and hijack a toy. At home I regularly came home to toys all over the place that had been tidied away and miss standing on things in bare feet in the mornings.
He seemed to mellow with age and over recent years was able to enjoy walks with friends with him now off lead and unmuzzled. Lovely pictures and memories of him tracking Lottie across the Quantocks the first New Year that we discovered he didn't see her as a bite size snack. This was followed with many a weekend with Alison Grimes and her guys, just enjoying being able to relax, and seeing him enjoying himself and running free was a joy.
He seemed ageless and was competing at full height with a year at Any Size until 2011, but soon enjoyed socialising more than the agility. His highest number of faults being in the 40''s without taking a pole or missing a contact! His final place was a 5th at SWAT and that rosette is almost as precious as the one he was awarded at Supadogs.
It was through him that I met so many friends and was so lucky to have the support of Dawn Newman and others when we had to rush him to the vets on that Friday. I will always be eternally grateful to her for taking care of the practicalities so that I could curl up and cuddle my main man for the last time. Thanks also to Gareth Graham for collecting him from Ipswich and bringing him back home and to Chrissie Hardy for this amazing montage tribute. To everyone else who has contacted, hugged and supported me over the years it has been amazing to know how special Dak was.
He was an amazing dog who taught me so much about behaviour management, but never ceased to amaze me whenever a new member joined our pack. He has left a huge hole in our lives but is no doubt making his presence known over Rainbow Bridge.
Enjoy emptying the toy boxes and run free my Dakman.
Jane, Tally, Mynx, Swiper & Mystic
---
STORME
08 July 2002 - 12 September 2013
It wasn't meant to be like this. I'd imagined you'd grow old gracefully and totter along at my side on our daily walks. But Aggressive Cancer had other ideas and in seven weeks flat. You were such a fighter, so brave my beautiful girl. The kind vet visited and you went to sleep in your own bed, in your own home. You're reunited now with Sophie, Oscar, Jasmine and Ice. Guessing you'll catch up with Molly. too.
Missing you so much, but I'm comforted with my memories of what a fabulous, kind and gentle dog you were - talented at agility too winning up to Grade 5 - but also a real character in that you'd disappear to the trade stands half way through a course if you felt like it! And footie, well David Beckham had nothing on you, you've taken your football with you so you can all play footie in the meadows over Rainbow Bridge, fit and healthy once again. Run free, run wild my darling and sleep tightly & peacefully. You will always remain in my heart xxxx
Fiona Noyes
LIBBY BLUE EYE
'Libby'
7 November 1999 - 05 June 2013
Libby was my second agility dog although everyone says she was my 'one in a million.' For a short while, we were the ones in the queue that you would nudge each other and say watch them. She's fast. I lost count of the times people would come up to me and say that was such a shame she is lovely. We won countless Helter Skelter and she even got a 2nd place in a Novice class before finally winning out of Starters (Grade1-2) in 2007 at RVA.
She was an independent sole but, at the same time, devoted to me in her own way. She wouldn't (couldn't) run for anyone but me and that made me feel even more special.
Mucking about with my camera one day, I took a photo of her blue eye and from then on everything was Blue Eye - my website, my driving school, my dog's KC names and, when I could afford it and find it, even my Car number plate BL11 EYE.
She first became poorly in March of this year. After a spell in the vets, she came home and all seemed great, but she was diagnosed as in kidney failure and I was told to make the most of the time we had left. I wish I had known it was only going to be a few months. I know I would of made more of it. She went downhill so fast on her last day. I knew that the only thing I could do for her was to let her go.
Take care, my beautiful Blue Eye girl. We will meet up again in that sunny green agility field in the sky one day.
Hayley Wilson
---

NORTHMEADOW EASY LAD
'Harvey'
25.April 1998 – 19.April 2013
Our very special boy has left us and is running free at Rainbow Bridge. Harvey was described by one of his human peers as 'a giant of a dog': and he was, he really was.
That spirited little bundle of mischief and energy charmed his way into not only our hearts but everyone who came into contact with him. Even people who 'don't normally like dogs' fell under the spell of Harvey's unique personality and desire to be friends with everyone.
Harvey was a flirt of the nicest kind. He loved human company, especially the ladies! He was such a charmer and loved the camera as such there are pictures of him worldwide including Canada, Australia, USA and Japan. The cracking photo our friend Dave Saunders took of Harvey enjoying his agility (above) has also featured on many websites and posters.
Harvey was our first agility dog and he absolutely loved it. It has to be said though that his enthusiasm sometimes got the better of him, especially where his contacts were concerned. We retired Harvey one win short of Grade 4. At the end of the day, agility is all about having fun and we certainly had that with Harvey.
We lost Harvey to cancer, six days short of his 15th birthday. We were so lucky and honoured to have shared Harvey's life and he is sorely missed: not only by us, but by Oscar, who is lost without his soul-mate. God bless Harvey.
Andrew & Lydia Parry & Oscar
---
Ag.Ch. PIQUANT PAINTED SUNSHINE
'Chelsea'
2001-2013
I have to announce the sad passing of Chelsea (aka Ag Ch Piquant Painted Sunshine). She was fine on Friday but was off her food at the weekend. It totally took us by surprise to find her dead in her bed on Monday morning. She died in her sleep which was a blessing albeit a terrible shock for us. I was lying quite close to her but didn't hear a thing so it must have been peaceful.
I feel very grateful to have had such a wonderful girl in my life. Her sense of humour and character were amazing. Her favourite thing at shows was to eye up other dogs and then try and nip their tails! She also used to bite my bum whilst walking to the Start Line on the agility courses.
She ruled the roost at home. If another dog was in her favourite bed, she would totally lie on top of them and, if they tried to move she would make it clear that that was totally unacceptable! They would have to stay there until she decided to get off!
Yes, she was also a fantastic agility dog. She taught me so much about motivation and how to cope with dogs that were nervous with things around the ring. I thought we would have a long retirement together but it was not to be. She was barely 12.
I don't know if other dogs achieved what she did at agility - I will list some of her achievements later - but most importantly she was a huge part of my family and will be greatly missed. Everyone knows she was my 'comfy slippers' at agility - just very comfortable running her and we felt like we were one when out on the course.
She was the only small dog to win Olympia 4 times running.

She won 16 Championship Tickets (Not sure if another dog has ever done that?)

She won the Crufts Championship and Crufts Singles the same year as well as other years.

She came 5th and 6th at the FCI World Championships and competed most years at that event

She won many medals for Team GB at the IFCS World Championships

She won the British Open at Crufts

The Poodle Team won the Crufts Team event
Can't believe I will never run her again. However, I am going to celebrate her life and try not to be too sad as she was such a fun-loving girl and, most importantly, she was well loved which a lot of dogs never get to experience in their lives.
Dawn Weaver
---

CHARBONNY RED INSTEAD
'Shadow'
7 April 1997 - 25 March 2013
As I am writing this, my heart is breaking. On Monday, 25 March 2013 I had to make the hardest decision ever and let my Shadow go. I knew that it was time to let him go when he could barely get up and go for his walks.
Shadow by name and Shadow by nature. He followed me everywhere. I can't believe that I can finally go to the loo on my own. Even at 16 he would still walk miles with us. Most weekends it would be 5 – 8 miles at a time. In August when he was 15.5 years old, he walked 12 miles over a wet and muddy Scottish moor.
He loved his agility and I loved him for beating the collies and winning the Supa Dogs Starter final in 2000. Then he qualified for the Crufts Team finals in 2001. He did a fantastic round in front of the biggest crowd. He picked up only 5 faults, pinging off the dog walk... again!
When his younger brother, Bandit came along his life was complete. I don't know how he is going to cope without his older brother to bully.
He was there for me when I had my cancer treatment. I would hug him and cry into his hairy neck. He just let me hold him for ages. When I let him go he would turn and give me a kiss. I knew I had to get better for him. Thankfully I've had the all clear.
When we retired them both from agility, we had more weekends free. This meant more time to go away at weekends. Dartmoor, The Lake District, Scotland and Wales were a few of our favourite places to visit. We have walked 1000s of miles with our dogs, up mountains and across moors.
We have always said we wanted our dogs to have quality of life. So when Shadow was not able to get up and walk without help,we knew things were not right and after two days with him getting worse we knew it was time to say goodbye,.
Goodbye and goodnight to my best friend. I will never have another like you.
Be a star in heaven Shadow.
Gill and Bernie Avery
---

THE RHONDDA RASCAL
'Skip'
September 1998 - April 2013
It was with great sorrow that we took our white Toy Poodle Skip on his final visit to the vet.
He loved everyone and everyone loved him.
When I tied him ringside to walk a course, he always managed to get someone to make a fuss of him.
He will be so missed by Tess as well.
Barbara Wort
---


HAWKSFLIGHT DREAM BELIEVER ShCM AW/B
'Onyx' -
5 April 2001 - 28 January 2013
In January I had to make the extremely difficult decision to let Onyx go to the Rainbow Bridge.
He was my first Belgian Shepherd and what an introduction to the breed! He gained his Kennel Club Good Citizen Bronze certificate at the tender age of five months and went on to get his Gold certificate. He won me out of Beginners at obedience as well as Starters at agility and was in Grade 6 when he retired despite an intermittent allergy to contacts!. He competed at Crufts several times and got his stud book number at the age of eight.
Onyx was an ideal first Belgian. I could not have asked for a happier and more willing companion. He lived life at 90mph despite being slightly short sighted. He is greatly missed by so many people. He was a truly versatile dog and a great ambassador for the breed. Run free with those we have loved and lost, until we meet again.
Tina Simpson
---

PRINCEWOOD WINTER LIBRE
'Rustler'
1 October 2001 - 8 March 2013
Rustler, our much loved Border Collie, died peacefully on Friday 8 March at home with us, just six weeks after having been diagnosed with lymphoma. We have had such fun times with him, visiting agility shows all around the country. He had a great love of football and would play all day and night if you let him. He loved watching tele and chasing the aeroplanes that flew over our garden. He was such a great character.
We are heart-broken and miss him so much.
Diana & Tony Daniels
---
VANTOAK HEAVEN
'Shannon'
May 4 2001 - February 12 2013
Shannon came into my life just before her second birthday when I was recovering from cancer. For the past 10 years, she has been my soul-mate and constant companion, my playmate, my confidante and my second-in-command helping to bring up Bracken, Ree, Hobi and Isla.
From a little black lab terrified of brushes, hoses and being tied up (she screamed!), she became strong, loving and playful, enjoying doing obedience – although she would never do her heelwork on the same side as the judge! – field trials and above all agility. Though never really good at the last because she found the jumps very high for her little legs, she always gave of her best and loved nothing more than a good Any-size course with plenty of tunnels - especially when there was a tripe stick at the end.
Not everything she deemed edible agreed with her – and she will go down in history at Avenue Road Vets for her consumption of six and a half pounds of gravel! We will never know why but only two weeks after major surgery she was paddling happily in Cornwall.
She retired with early onset arthritis at age seven, apart from those occasional Any-size classes, and has been on the miracle drug Cartrofen for the past three years or so. Pain levels have been increasing of late and available medication didn't seem to be working.
Today (12 February) an X-ray showed the onset of bone cancer and possible metastasizing into her chest. When she came to me, I promised her she would never live a single day in pain. Today I have kept that promise.
Wait for me at Rainbow Bridge my little Shannon-shoops.
I love you and will remember you for ever.
Lindy Margach
---

ACECLIFFE STAR BLAZER AT MARDARZETT
Rupert (Son of Star to his friends and agility associates)
22 November 1998 - 13 February 2013
We had to say a very sad goodbye on Wednesday, 13 February to our beautiful Big Boy. Rupert was a very proud Standard Poodle who lived his 14 years to the full. He come to live with us when he was nine weeks old, joining our three minis Hannah, Celene and Lucy and living the last five years with Paddy and JayJay.
Rupert loved nothing more than being admired and fussed. He loved all people - especially children - with possible exception of the postman. One of his favourite things was going to breed shows including Crufts where he earned a 2nd and 3rd. at Crufts. He also did some photo shoots including an advert for a programme for children's TV.
For Rupert, agility was all about fun other than when he competed in Pairs or a Team. These he took very seriously.
After he retired from showing and agility, he represented the Standards on the Poodle stand at Discover Dogs held at Earls Court.
His favoured place in the last few years was to go to Marks Hall Gardens, Coggeshall where he loved being in the kiosk and made friends with the staff and visitors.
He was a beautiful loving dog who will be missed by many but none more than Maggie, Derek and all his special friends. RIP our Beautiful Boy
Maggie & Derek Cheek
---
SHANI PATTY PAWS AW(S)
'Shani'
5 December 2000 – 15 February 2013
It was with a very heavy heart that I had to make the hard decision to let my bestest girl Shani Patty Paws go to Rainbow Bridge on Friday, 15 February. She had been my loyal friend for the past 12 years.
Shani had spondylosis in the spine and had been coping well with a rear harness... her handbag! She was as bright as anything but last weekend she ate part of a toy and had x-rays. The toy came back okay but her legs suddenly decided not to work anymore. She was struggling to use her front legs so a decision had to be made.
She had come to us as a frightened puppy who was terrified of the world. Then she discovered Agility. It gave her such confidence and she has taught me a lot over the years. Her finest achievement was in 2009 at Dashin' Dogs where she had 19 runs in the week with a 6th, 7th, 9th, 10th, 11th and 13 clear rounds - only one pole down all week, and she was convinced that it was my fault! She finally retired from Anysize in 2011 but still wanted to go around the rings and see everyone.
Even though she had a problem with her back, she still wanted to go out and about so she was very happy when we found the harness ahd she could go for walks again.
O
n Wednesday, she went swimming and thoroughly enjoyed it, still as strong in the water. She went every week and was a super swimmer and she Thank you Jenna at Canine Country Club for looking after her. As you said, she wrapped us around her paws with her beautiful brown eyes.
She was treated to chicken, beef stew and more chicken for her last days and just accepted that as her due! There was nothing else wrong with her which made the decision even harder but I could not let her suffer On Friday when the vet arrived, she just lay there and peacefully went to sleep.
She has bossed our four other dogs around, and they knew what she said was the law. She knew I had cancer and, after my op, just seemed to say 'Okay get on with life.'
She will be missed so much but will always be with me, laving me with a very big hole in my heart. I know she is only going around the next bend in the road, just out of sight.
RIP Shani. You can now run with all your old friends.
Margaret Goulden
---
DASHA IRISH CHARM
'Monty'
25 December 2001 - 10 February 2013
As some of you will know, we tragically lost my wonderful Monty on Sunday. He had been struggling for a few months now with a mystery illness and on Saturday he deteriorated very quickly. We managed to get an emergency appointment at the brilliant Fitzpatrick's Referrals on Sunday where they did an MRI scan which revealed he had two large masses growing on his spine as well as in his lungs. He was in a great deal of pain and clearly very distressed, and the only option was to put him to sleep.
We are all, as a family - Benji too - devastated by our loss. Monty was a dog a million. Hhe will never be forgotten. I have written below my favourite memories of him with, of course, details of his many and varied achievements.
Our previous family dog Wilbur had died in early 2000. By 2003 we felt ready for a new dog. We had a high criteria. We were a busy family with three children, my autistic brother and two cats. We needed a dog who would have a temperament good enough to cope with my brother, our lifestyle, the cats, and potentially go on to do some doggy activities. Oh – and we wanted a rescue dog. Impossible you say? Not at all.
Having been scouring Dog Rescue Pages for some time, we wrote to Dasha Dog Rescue in South Wales. They wrote back straight away and said they knew just the dog for us. Monty had been picked up as a stray in Ireland and was 18 months old. We went to see Monty at his fosterer's house in June 2003. I was 15 years old and I was excited about having a new dog in the family. I remember the trip down to Maidstone. I could hardly wait. When we arrived, I sat in a chair and Di opened the kitchen door and out he flew. He ran straight to me and put his head on my lap and looked up at me as if to say 'Hello, I'm Monty!' That was that.
He came home a few weeks later and he settled in straight away. We had a few teething problem like a lack of recall, bike / jogger chasing, ankle biting and barking. It soon became apparent that he needed to 'do' something.
In 2004 we took up showing. Although Monty was a crossbreed, he was incredibly handsome and loved going to exemption shows. His impeccable manners and stunning movement always caught the judge's eye and he came home with lots of 1st place rosettes. Along the way, we qualified for lots of finals and he always won the Most Handsome Dog classes. In 2004 he won Scruffts Family Dog of the Year and that led to us appearing on Blue Peter as well as local radio and in Local and National news papers. He was also selected and won Most Handsome Dog classes at the Companion Dog Club Finals for several years running at Discover Dogs.
Our next adventure was Flyball. By this time, we knew Monty was possessed by the mere sight of a tennis ball, and he picked up the idea of flyball is five seconds flat. We had great fun and the only competition we ever ran in he didn't put a foot wrong. Our team came 3rd!
We discovered Agility at the end of 2004 and we never looked back. He took to it like a duck to water and he was, if anything, far too enthusiastic! He suddenly found his confidence and it made our relationship so much stronger. I chose the name Dasha's Irish Charm to reflect his rescue and his perfect Irish manners! He was incredibly strong willed and would regularly ;take his own line' in training - and at shows! As far was Monty was concerned, weaves were a waste of time and were no good because they slowed him down, and contacts were on occasion a perfect opportunity to launch off to give him a head start. There were many a time when I told him I would take him back to the rescue centre if he missed one more set of weaves!
As time went on he got more and more consistent and for the last few years of competition I could actually depend on him to get fantastic clear rounds. He won out of Grade 1 at Supadogs in 2007 and Grade 2 at KCI in 2008 – two of the biggest shows in the country – showing that he could beat the best. We stayed in Grade 3 for the last four years, enjoying a variety of courses and still getting top places even last year against all the speedy collies. Throughout the years he qualified for many finals including the Agility Club Starters Cup, DARL Finals and the DIN Finals. At shows I would be regularly stopped by spectators who would comment on what a lovely dog he was, how beautiful he was, and questions on his breed – to which I always replied "your guess is as good as mine!". He will be remembered among the Agility world as the loud one – you could always hear Monty running a course before you saw him!
He was an amazing, one in a million dog whom I was privileged to own. There will never be such a beautiful, trusting, talented dog like him again.
Rest in peace my wonderful boy. You will never be forgotten.
Samantha Hadingham
---
---
---
When an animal dies that has been especially close to someone here, that pet goes to Rainbow Bridge. There are meadows and hills for all of our special friends so they can run and play together. There is plenty of food, water and sunshine, and our friends are warm and comfortable
All the animals who have been ill and old are restored to health and vigour; those who were hurt or maimed are made whole and strong again, just as we remember them in our dreams of days and times gone by
The animals are happy and content, except for one small thing; they each miss someone very special to them, who had to be left behind. They all run and play together, but the day comes when one suddenly stops and looks into the distance. His bright eyes are intent; his eager body begins to quiver. Suddenly he begins to run from the group, flying over the green grass, his legs carrying him faster and faster.
You have been spotted, and when you and your special friend finally meet. You cling together in joyous reunion, never to be parted again. The happy kisses rain upon your face; your hands again caress the beloved head, and you look once more into the trusting eyes of your pet, so long gone from your life but never absent from your heart.
Then you cross Rainbow Bridge together...
Author Unknown
---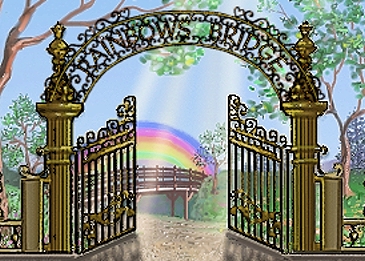 *Just This Side of Heaven is a Place Called Rainbow Bridge

Petloss.com, is a gentle and compassionate website for pet lovers who are grieving over the death of a pet or an ill pet. Here you will find personal support, thoughtful advice, The Pets Candle Ceremony, Tribute Pages, healing poetry like Rainbow Bridge and much more.
http://www.petloss.com/
---
Grief is the normal response to any important loss in life. Psychologists have long recognized that the grief suffered by pet owners after their pet dies is the same as that experienced after the death of a person. The death of a pet means the loss of a non-judgmental love source. Given time, healing will occur, but in the meantime give yourself permission to grieve - only you know what your pet meant to you - and surround yourself with people who understand your loss. If you've recently lost your 'best friend.' you can express your feelings with a tribute on Agilitynet. You are not alone.
Rainbow Bridge: Donald Vann
More about the The Pet Bereavement Support Service
PBSS is available from The Blue Cross website and via the Society of Companion Animal Studies (SCAS) website where they have a memorial site. You can download leaflets for adults and children. The children's leaflet is very good and practical and I have handed it out to teachers and parents of children at the school I work in (Special Needs). The help line no. is tel. 0800 096 6606. The service is also supported by the British Association for Counselling and Psychotherapy, so it is a 'professional' setup. There is a course that one can do to become a bereavement counsellor too. Fiona Thompson