The dinner's in the dog...
With the emphasis on natural healthy eating, it is not surprising that many agility people looking for ways to feed

their dog with nutritious and reasonably priced food rather than shop-bought pet food. The best way to know what goes into your dog's food is to make it yourself.

Why take a chance? Make your dog's food yourself. It's not as difficult as you expect. You don't have to be a Master Chef, Gordon Ramsey or Jamie Oliver to cook up something tasty for your dog. Here is a selection of home-made treats and special diets that you can try at home.
For those people whose dogs have renal failure or need special diets, there are also tried and true recipes for you.
If you have a favourite recipe why not share it. Email Agilitynet
Beat the heat. Whip up these quick frozen treats for your dog and his canine pals with food you have on hand. All you need is 5 minutes, a few ingredients, and a freezer.
Ingredients
1 ripe banana

4 cups orange juice

1/2 cup plain yogurt
Method
Puree all ingredients in a blender—or simply mash the banana by hand and combine with the juice and yogourt—then pour into a popsicle mold, freeze, and serve to your favourite hot dogs.
Variations
Switch up your fruit. Try subbing in:-
You can also vary the juice you use. Try pineapple juice or apple juice. Just check to be sure the juice you use is all-natural and has no added sugar.
Modern Dog pup-approved combinations include:
Watermelon, strawberry, pinapple juice and yogurt

Peanut butter, banana, apple juice, and yogurt
---
Homemade No Salt Chicken Broth Pops
from

Modern Dog Magazine
Had barbequed chicken for dinner? Don't chuck the carcass!
Method
Throw the chicken into a large pot, cover with water, and let it simmer for an hour and a half.

Cool, then pick the meat off, discarding the bone but keeping the cartilage, meat, and broth. Left over cooked carrots and/or peas? Mash them up and mix them in!

Pour the chicken broth into your popsicle mold.

Freeze
Best served outside.
Save whatever's leftover as a tasty addition to your dog's next few meals.
---
Easy Ice Cream Treats

f
rom Hazel Compton
These frozen yogurt treats are sure to bring a smile to your dog's face. This 'ice cream' is perfectly safe for dogs in moderate servings.
Ingredients
Method
Mix peanut butter and yoghurt together.

Place the mix in a freeze proof container. Push the mixture down into the container you've chosen, and place it in the freezer.

Now your patient dog can help you clean the bowl and spoon, while waiting for the treats to freeze

After a couple of hours you have some delicious ice cream treats for your dog!
You can choose if you want to make large or small treats, and any shape you want! Maybe some cute bone-shape treats.
Variations: Add in bacon or jerky to make them extra special.
---

Sheila's Dog Sardine Biscuits

from Sheila Harper
This is a tasty recipe that Sheila Harper that she picked up somewhere that her dogs love.
Ingredients
2 x tins of sardines in oil

60g (1/3 cup) of wholemeal flour

300g (1 1/3 cups of oats

A splash of water
What else you'll need
Cookie cutter

Baking Tray
Method
Add the two tins of sardines (including the oil) to a bowl and mash them up. Remove any large bones.

Add the dry ingredients plus a splash of water and mix thoroughly to make a firm dough ball.

Roll the dough ball out and cut the dough into whatever shapes you like.

Put the biscuits on a baking tray and bake in the oven at 190ºC (370ºF) for 20-25 minutes or until cooked
Let your dog enjoy once cooled.
Source: Sheila Harper Newsletter
---
Mini Christmas Puddings

from Lily's Kitchen
This is a delicious, healthy Christmas treat for dogs. There's always so much chocolate, sweet mince pies and puddings around during the Festive season - many of which can be harmful to dogs.
You can make these gorgeous puddings knowing your dog will love them and that they are full of good nutrition too.
Ingredients
100g Fresh blueberries

65g Porridge oats

350g Apples

1 Tablespoon blackstrap molasses

1 Tablespoon of olive or sunflower oil

1 Large sweet potato

Cream cheese for the topping

6 Tangerine segments (optional, if you want to give this a Heston twist!)

Parsley for decoration
Method
Peel and chop up the sweet potato, cook in simmering water until soft. Drain the water, mash the potato and put to one side.

Grate the apples discarding the stalks and pips. Put the grated apple into a small saucepan.

Add the blueberries to the apples and then add the oats. Stir together.

Add the oil and molasses, mix together. Stir the mixture with a wooden spoon over a medium heat for about 10 minutes until the blueberries are cooked and break up easily with the back of the wooden spoon.

Add in the mashed sweet potato and stir the mixture together over the heat for a further 5 minutes.

Put the mixture aside until it is cool.

If you are adding the tangerine segments, then chop each segment into 3 or 4 small chunks and add to the mixture and stir gently.

Roll the cooled mixture into balls - a small size for small dogs and a bigger size for larger dogs. This is a rather sticky process!

Pop them in the fridge for 30 minutes so they can firm up a bit.

Take them out and put a small amount of cream cheese on top. You can then put a couple of parsley leaves on the icing for special effect... and parsley is very healthy for dogs, too!
These will keep for up to five days. You can feed your dog several of these a day, but perhaps no more than three or four.
---
Brie's Turkey & Cranberry Dog Bones
from The British Baker

Ingredients

3 1/2 Cups of whole wheat flour

1 Teaspoon baking powder

1 Cup shredded cooked turkey

1 Cup dried cranberries

1 Egg

1 Tablespoon of olive oil

1 Cup low-sodium chicken broth, or as needed

Method (makes about 45 dog treats)

Preheat oven to 350° F (175°C/Gas mark 4 approx.)

Lightly grease baking sheets or line them with parchment paper.

In a large bowl, mix the whole wheat flour and baking powder together until thoroughly combined, then stir in the cooked turkey meat and dried cranberries and whisk until thoroughly combined. Make a well in the centre of the flour mixture and drop the egg into the centre; pour in the olive oil and about 1/2 cup of chicken broth.

Mix into a soft dough. If the mixture is too dry, mix in more chicken broth - about 1 tablespoon at a time, until the dough is of the desired consistency.

Turn the dough out onto a floured work surface and knead for 1 to 2 minutes. Roll the dough out to 1/4 inch thick and cut out with your favourite cookie cutters.

Bake until the treats turn brown - about 25 minutes. Turn the oven off and leave the dog treats in the oven an additional 30 minutes to dry out.

Refrigerate leftover dog treats.
---
Tasty Turkey Treats

from Carlow DTC newsletter
Ingredients
2 C. cooked turkey - cut up

2 Cloves garlic

4 Teaspoons grated cheese

1 Tablespoon parsley - freshly chopped

2 Eggs

2 C. whole wheat flour

2 Tablespoons brewer's yeast

2 Tablespoons vegetable oil
Method
Combine turkey, garlic, cheese, parsley and mix well.

Beat the eggs in a bowl and pour over turkey mixture.

Add the flour, yeast and oil.

Stir until thoroughly mixed and all ingredients are coated.

Line the tray with grease proof paper.

Drop mixture into small lumps onto baking tray.

Cook at 180°C/Gas Mark 4 for about 20 minutes, until brown and firm.

Store in fridge.
---
Liver cake is the choice of many obedience and agility handlers. Dogs love liver but can be too rich for them and play havoc with their stomach. Liver cake is relatively inexpensive, not as rich as raw liver and can be frozen.
Ingredients
1Lb (450g) lamb or ox liver

1Lb (450g) self-raising flour

3 eggs

2 cloves of garlic

Milk or water
Method
Crack the eggs into a measuring jug.

Add an equal volume of milk or water to the measuring jug and whisk.

Blend the liver and garlic in a food processor.

Add the egg mixture and blend to a cake-like consistency.

Empty contents into a baking tray.

Bake at Gas Mark 6 / 180 degrees for 45-60 minutes.

Allow to cool.

Divide into 12 pieces and freeze.
If you cook the liver in oven, cover with water and chopped garlic and leave to cool.
You can swap liver for fish to make a nice fish cake to. Have fun cooking
---
Peanut Butter Poppers
from Carlow DTC newsletter
Ingredients:
Method:
Preheat oven to 190oC/375oF/Gas Mark 5
In a bowl combine flour and baking powder

In another bowl mix peanut butter and milk and add to the dry ingredients and mix well

Place dough on a lightly floured surface and knead well. Roll dough to a thickness of 1/4inch thick and cut out shapes

Bake for 20 minutes on a greased baking sheet until lightly brown

Cool on a rack, then store in an airtight container

This is an original recipe but keep a close eye while cooking as they do burn easily
---
Microwave Doggie Doughnuts
from Carlow DTC newsletter
Ingredients:
Method:
Place flour in a bowl, add egg and broth, mix well

Blend in oatmeal and garlic powder

Roll dough into a ball

Roll out on a lightly floured surface to 1/2inch thick

Cut with small doughnut cutters.

Re-roll scraps and repeat. Shape last bits by hand

Arrange rings on a shallow baking dish or on a sheet of parchment paper in a single layer

Cook on high 10 minutes or until firm

Let cool until hardened. Store in covered container when doggie's not looking
---
Party Pupcakes

from Carlow DTC newsletter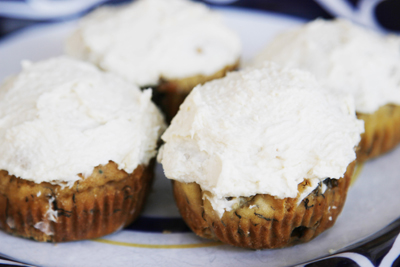 Ingredients
1 large apple

180g wheat flour

22g oatmeal

2 teaspoons baking powder

120ml water

1/2 teaspoon baking soda

60ml plain yogurt

120ml water

60ml vegetable oil

2 tablespoons honey

2 x eggs

90g grated cheddar cheese
For the icing
230g low fat cream cheese (room temp)

2 tbl honey

2 tablespoons plain yogurt

2-3 tbl plain flour
Method
Preheat oven to 400 ° F (200 ° C).
Grease muffin tins.

Core and mince the apple (use a food processor if you have one & set aside

In a large bowl, mix together flour, oatmeal, baking powder, and baking soda

In a medium bowl, blend yogurt, water, oil, honey, and eggs and then stir in the apple and cheese

Add to the flour mixture and stir until mixed

Spoon into the muffin tins, filling about 3/4 full

Bake for about 20 minutes or until a toothpick comes out clean

Let rest in the muffin tins for a few minutes, then remove and set aside to cool
For the icing
Combine the cheese (room temperature), honey, and yogurt until smooth

Add enough flour to thicken the frosting to a good spreading consistency

Frost the pupcakes and you're ready for a doggone good party!
Makes 16-18
---
Canine Restricted Protein Diet
My vet suggested these recipes from an American website many years ago when I had a collie with renal failure who wasn't interested in 'normal' food. They conform to the vet requirements for such a diet, as do the commercial renal diets. It certainly gave her back her appetite for the last six months or so of her life.
Ingredients
1/4 lb. Ground beef (*do not* use lean round chuck)

2 Cups cooked white rice (without salt)

1 Hard-cooked egg, finely chopped

3 Slices white bread, crumbled

1 Teaspoon (5 grams) calcium carbonate*

(*--Calcium carbonate sources: Ground egg shells; Drug and Health food stores.)

Also add a balanced supplement which fulfils the canine MDR for all vitamins and trace minerals.
Method
Cook beef in skillet, stirring until lightly browned.

Stir in remaining ingredients and mix well.
This mixture is somewhat dry and its palatability can be improved by adding a little water (not milk).
Keep covered in refrigerator.
Yield 1-1/4 lbs.
Nutrition
Analysis as fed
| | |
| --- | --- |
| Protein | 6.9% |
| Fat | 5.5% |
| Carbohydrate | 21.1% |
| Moisture | 65.5% |
| **Metabolizable energy | 750 Kcal/lb. |
**This diet supplies 17% protein calories, 30% fat calories and 53% carbohydrate calories.
Feeding Guide:-
Feed sufficient amount to maintain normal body weight.
Body Weight Approximate Daily Feeding
| | |
| --- | --- |
| 5 lbs. | 1/4 lb. |
| 10 lbs | 1/2 lb. |
| 20 lbs. | 1 lb |
| 40 lbs. | 1-1/2 lbs. |
| 60 lbs. | 2 lbs. |
| 80 lbs. | 2 -1/2 lbs. |
| 100 lbs. | 3 lbs. |
This is a recipe for a homemade restricted-protein diet, similar to Hill's k/d in nutritional value and effect on compromised kidney function (the recipe comes from a sheet of such that Hill's provides for vets to give to their clients.
---
Tegan was diagnosed with kidney failure a few months ago. Since then she has been on Fortekor tablet and the Hill's KD diet but a few weeks ago she stopped eating. Tried putting in, on the vet's advice, a bit of sardine or pilchard which worked for a few days but then she stopped eating again. She is 14 years old and her illness already made her thin but I was really worried, we went on-line and found two recipes that are especially for dogs with this disease. Our vet said to try it and, boy, has it worked. She is eating everything put in front of her. Tegan has never been a big eater so I cook up both recipes and they last her three days kept in airtight containers in fridge. I give her the potato one in the morning and the rice one at night.
Potato, Egg & Chicken
Ingredients
5 Medium crushed, cooked potatoes with skins left on
1 Soft boiled egg
1 Tablespoon of olive oil
1 Medium chicken breast, cooked and shredded. You can also substitute a small piece of white fish - thoroughly boned
2 Crushed calcium tablets
2 Crushed multi-vitamin tablets (I use a pestle and mortar).
Method
Mixed well in a bowl, allow to cool and store in airtight containers in fridge.
---
Rice & Mince
Ingredients
8 oz Cooked rice
2 ozs Cooked mince beef
1 Soft boiled egg
1 Tablespoon of olive oil
2 Crushed calcium tablets and 1 multi-vitamin
Method
Mix well and store in airtight containers in fridge.
From Marilyn Gamble...
I had been searching on different agility and flyball websites for information about dogs with renal failure and vestibular syndrome and there is was on Agilitynet - different recipes for the dogs that don't want to eat.

I had this problem with a 14.5 year old bitch who is now stable. This was a bitch who was diagnosed Uriemic. She was originally fed a raw diet. Tried her with Royal Canin Renal Dry Food. It took ages to get her to eat. It is heart wrenching to watch when you've had a beloved dog as long as that.

However, to look on the bright side, she is now going for walks with my other two dogs and enjoying life. She even likes to play.

She is on Fortekor & Vivitonnin. I feed a mixture of Royal Canin & Burns Duck & Rice, 2oz. scrambled egg, lightly cooked tripe. or shavings of chicken plus extra fish oils every day.

Don't give up. These dogs are worth the fight!
---
Egg & Potato Diet
This is a low-protein, low-phosphorous, high-potassium, normal sodium recipe.
Ingredients
1 Egg, large, cooked
3 Cups potato, boiled with skin
1 Tablespoon chicken fat
1 1/2 Calcium carbonate tablets (600 milligrams calcium)
1/2 Multiple-mineral tablet
Method
Mix ingredients well together.
Nutrition
Provides 600 kilocalories, 15.1 grams protein, 18.5 grams fat. Supports caloric needs of an 18-pound dog. Also provides phosphorus at 53 percent, potassium at 322 percent, sodium at 114 percent of dogs daily needs.
To feed this diet with a normal amount of phosphorus, substitute 3 bonemeal tablets for the 1 1/2 carbonate tablets.
---
This is a low protein low phosphorus, high potassium, low sodium recipe.
Ingredients
1/4 Cup cooked chicken breast
3 Cups potato, boiled with skin
2 Tablespoons chicken fat
1 1/2 Calcium carbonate tablets (600 milligrams calcium)
1/2 Multiple vitamin-mineral tablet
Method
Mix ingredients well together.
Nutrition
Provides 689 kilocalories, 18.9 grams protein, 26.8 grams fat. Supports caloric needs of a 21-22 pound dog. Provides phosphorus at 45 percent, potassium at 301 percent, sodium at 54 percent of a dog's daily needs.
To feed this diet with a normal amount of phosphorus, substitute 4 bonemeal tablets for the 1 1/2 calcium carbonate tablets.
---
Tuna Garlic Cake

from Sally Jones
This is Sally Jones' alternative to Liver Cake and is ideal for anyone who can't cook.
Ingredients
2 Cans tuna in sunflower oil
Garlic
4 Eggs
Flour/polenta/rice flour - anything like that!
Method
Mash up the tuna in the oil and add the garlic.
Stir in the eggs and break them up (throw the shells to the dog). Do not beat the mixture as you do not want holes in the cake.
Add sufficient flour to make a cake mixture type consistency. Okay, so you have to know what this looks likes.
Put into greased microwaveable dishes. I have used two 8 inch diameter flat bottomed circular things. Nuke on full power for about five minutes.
If you have covered the dish, take the cover off and give the cake a good poke - it should be rubbery.
Put back in without the cover for about another minute.
Allow to cool and cut into hundreds of treats. Apparently it freezes well but mine has never got that far.
---
Good Pup Pie

from Monica Dixon
Take one puppy dog, roll and play with it until slightly pampered, and add the following ingredients:-
Ingredients
1 Cup patience

1 Cup understanding

1 Pinch correction

1 Cup hard work

2 Cups praise

1½ Ccups fun
Method
Blend well.

Heat with the warmth of the heart until the consistency is such that dog and owner are one.
---
Home-Made Dog Food

from Paul Syrkiewicz
Ingredients
Large piece of liver, cut into cubes
1 Cup rolled oats
1 Teaspoon of oregano
2 Carrots, diced
1 Small potato, diced (skin can be left on)
Method
Fry the liver until it is thoroughly cooked but not rubbery
Stir in the oregano
Lightly boil the carrot, onion and potato until soft. Drain thoroughly
Mix the liver, oats, carrot, onion and potato together until thoroughly combined.
Store in an air-tight container until ready to serve to the dog. The mixture can be made even tastier by adding a couple of tablespoons of gravy (made from granules is fine).
This recipe is full of protein to give the dog added energy and help to condition the coat. Liver is packed with minerals and makes the perfect base for most dog foods. If preferred, substitute the liver for ground beef or any other meat.